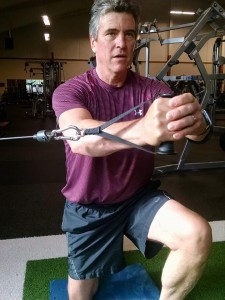 So when last we spoke, I was being challenged with a 5 day business trip to Vancouver Canada.  I did not have my trainer for an entire week.  No racquetball.  Long days training in a convention room.  Up late and then up again early the next day.  The perfect recipe to undo the work I accomplished in the first 10 days.  So you ask, "How did you do JR?"  I HIT IT OUT OF THE PARK.  A complete home run of a trip.  I came back on Tuesday morning at a modest increase of 194, but I was at an 8 month low on Thursday morning at 186.4.
I stuck to my red wine routine on Friday.  I moved my cheat day to Saturday and had shakes for breakfast, a salad with a chicken breast for lunch and a modest dinner.  I might have had to much of a very fine new Irish Whiskey I found on Sunday night, but that was the only real over indulgence.  I am very encouraged.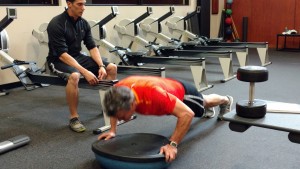 I worked out at our club on Wednesday night with Buffy.  She is such a goof ball, I think I get extra ab work simply laughing at her.  She also has all of the sadistic nature of any good trainer.  She is tough.  I saw trainer Joel again on Friday afternoon and it was another challenging workout.  I am ready for my weekend.  Racquetball Saturday morning with friends.  We have an Isagenix Team BBQ at our home on Saturday night, so half of my cheat day goes back to Saturday night.  I should start Monday below 194, if all goes well.
The upside is that there are rays of hope in the battle.  My weight is pretty much where I want it.  I really do not want to lose a whole lot more.  Perhaps a few pounds, but definitely NOT below 180.  I have more pure New Zealand Isagenix Whey protein on its way.  I need to start to add more protein to build muscle.  Another upside is that I feel the best I have ever felt.  My reflexes in racquetball have been surprising me.  The game is actually slowing down for me and my mind and body are reacting quicker then I can ever remember them.  I feel amazing.  The abs are starting to get there.  Wish me luck.  Peace out.
If this article can be helpful to someone you  know, feel free to share it.   If you want more info on our nutritional foods program, then call or email Buffy or me.  Be well.
Click here to get healthy with Isagenix today.
*Results may vary (see full disclaimer in the footer).